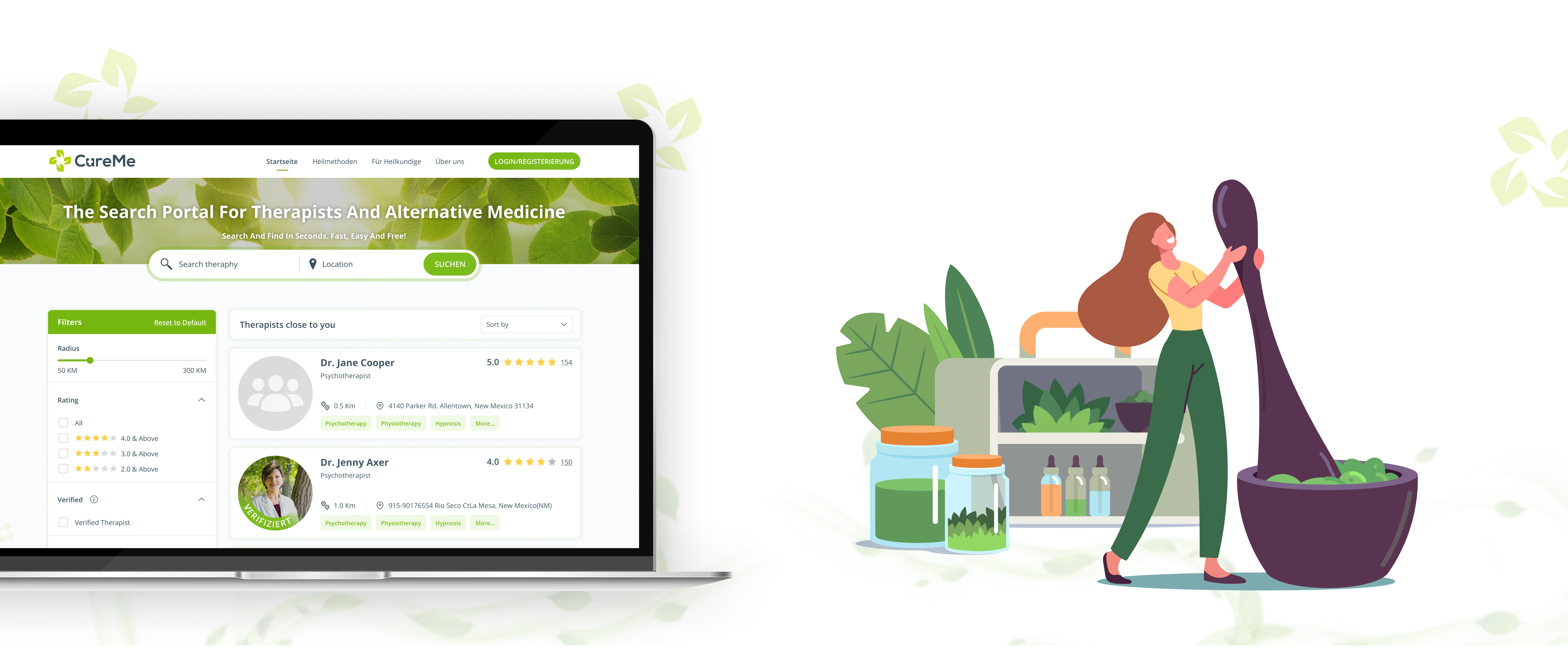 Start Your
Personalized
Wellness Journey
On Cure Me, explore the world of holistic healing. Find therapists and alternative medicine practitioners who have been hand-picked and are suited to your needs. Utilize our intuitive platform to improve your health. Discover the path to wellness like never before.
+ Professional therapists
+ Healthcare Alternatives
+ Easy Appointments
Discover
Making the journey of Cure Me. We have crafted an intuitive platform using cutting-edge UI/UX and development techniques. Discover healthcare reimagined, where form seamlessly merges with function.
Challenge
Complex challenges were involved in creating user-friendly interfaces for various therapy practices. It took careful consideration to design seamless navigation while meeting various therapeutic needs. Our team pioneered solutions that balanced complexity and simplicity to guarantee a seamless, user-friendly experience.
Ideate
Cure Me's platform was innovatively shaped during ideation, streamlining therapy search with user-focused solutions, ensuring a seamless experience.
Colors
Embrace the tranquility of nature by letting the colors RESTLESS SEA blue and MONSTERA DELICIOSA green embrace you. Through their resonant presence across the entire Cure Me platform, these colors encourage a peaceful setting for holistic wellbeing and healing.
Visual and typography hierarchy
The playful curves of the Open Sans font bring life to Cure Me's visual story. It ensures a harmonious fusion of aesthetics and readability when meticulously aligned. The combination of typography and images produces a vibrant and approachable platform, improving the user experience as a whole.
Minimalistic Iconography
Cure Me's icons follow to UX principles and are simple, lucid, and user-friendly. They ensure a seamless experience by streamlining complex healthcare concepts and improving user interaction.
Visual Design
The UI screens for Cure Me are visually appealing and user-friendly. A fun and enjoyable healthcare experience is made possible by vibrant colors, clear layouts, and adherence to UX principles.
Unlocking Vitality Through
Traditional Healing.
Experience Holistic Healing, Tailored
Treatments, Expert Care, Ultimate Well-being
UI Elements
Our components are created for simple user interaction, enhancing interaction and guaranteeing a wonderful experience across the entire Cure Me platform.