Connecting Students and Tutors for Academic Success
Improve education by using qualified tutors. Establish comfortable connections, explore a range of topics, keep track of progress with ease, and set out on a transformative journey to academic excellence.
+ Expert Tutors
+ Diverse Subjects
+ Progress Tracking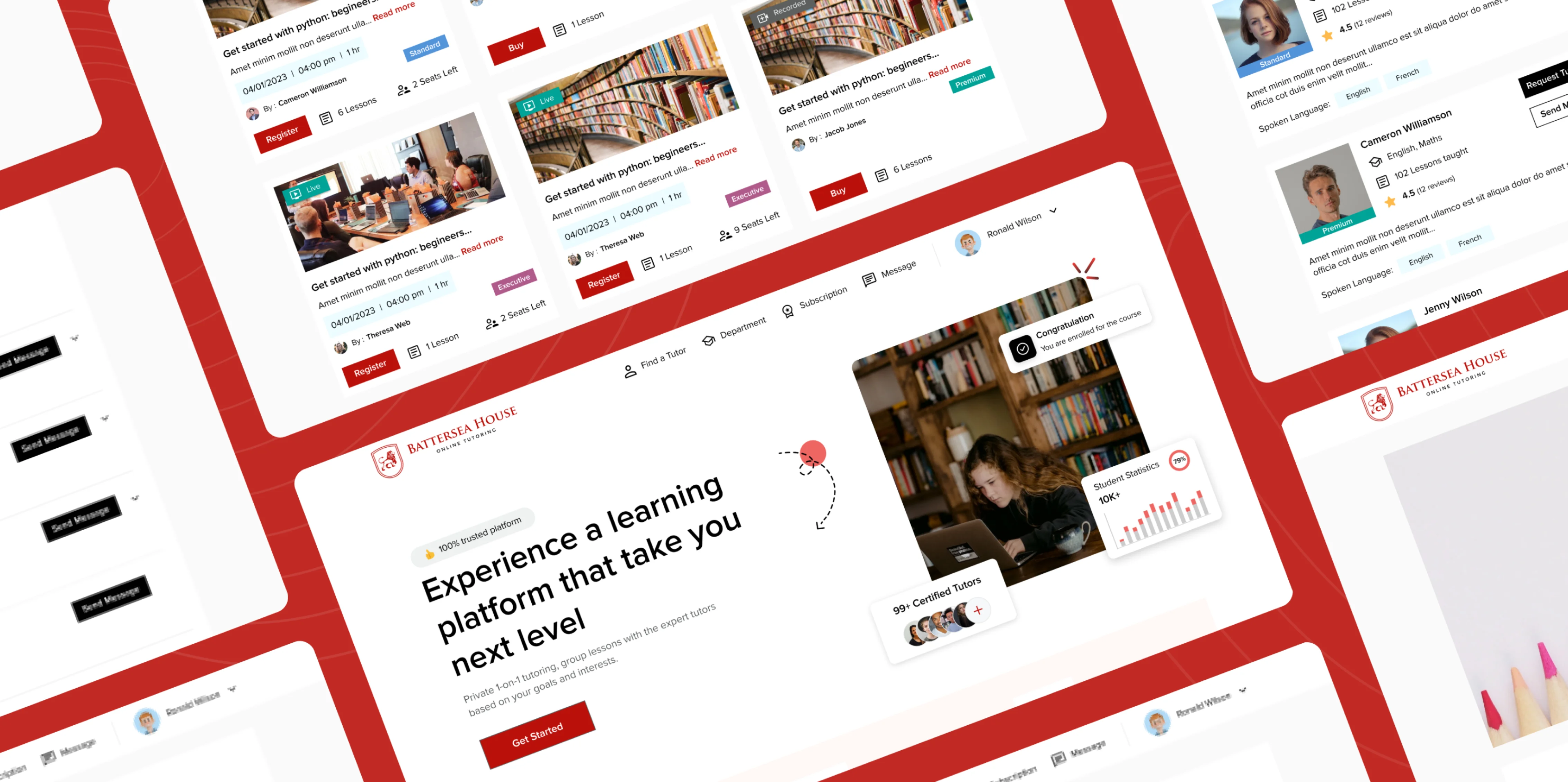 Discover
Through our collaboration with Battersea House, We brought to life an educational realm. Our UI/UX and development prowess have transformed their vision into a user-friendly platform. Navigate diverse subjects and connect with expert tutors effortlessly, embarking on a transformative academic journey shaped by our partnership.
Challenge
Creating seamless connections between students and tutors, offering diverse subjects, and enabling progress tracking posed unique project challenges for Battersea House. Balancing these elements required careful orchestration.
Ideate
Our ideation phase prioritized UX, functionality, and simplicity to ensure an easy-to-use platform for Battersea House users.
Colors
The color palette adheres to a monochromatic scheme, with "Milano Red" as the primary hue. This bold, deep red signifies energy and determination, aligning with our mission to empower students on their academic journey. The monochromatic approach enhances visual consistency, emphasizing clarity and functionality, ensuring an optimal user experience.
Visual and typography hierarchy
Proxima Nova was chosen because of its exceptional legibility, adaptability, and modern design. This decision shows our dedication to delivering user-friendly, accessible content and ensures effortless readability across a variety of devices and screen sizes. The platform's modern and professional appeal is enhanced by Proxima Nova, which also makes it possible for all users to have an easy educational experience.
Minimalistic Iconography
Our minimalistic icons adhere to the Law of Similarity and key UX principles. These universally recognized symbols enhance user understanding, simplifying the learning journey at Battersea House.
Visual Design
Our visual design places a premium on user experience, fostering effortless navigation and a seamless user journey. This strategic approach not only enhances user satisfaction but also drives business growth, making Battersea House a win-win for all.
Personalized Sessions and
Expert Tutor Guidance
Discover the perfect session and embark on your
learning journey with a dedicated tutor.